All of Market street received Philly Fashion Week with open arms as this seasons shows took place at a new location. The stage was set at 801 Market Street, but this address is no stranger to fashion. This location was once the headquarters of the infamous Strawbridge and Clothier store. Built in Beaux-arts architecture, the buildings details and columns added an elegance to the runway.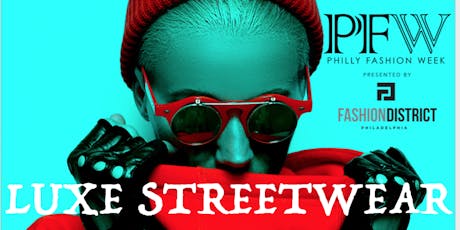 On Thursday, September 26th was the anticipated Luxe Street Wear fashion show featuring 9 designers( Mind of Cool Rumors, Society Robot, Himalaya, KingMe Ambitious, Cologe, Majeeda Monae, Modisch, D'IYANU and Lamont Lateef) with an edge and eye for street style. The collections set trends with bold colorful patterns, neon, and leather; while other designers stepped out of the box and made a statement with graphics and typography, like designer Mind of Cool Rumors.
We also had the pleasure of meeting Matt Burney, designer of COLOGE, who was debuting his "The Humble Elite" collection for the first time at Philly Fashion Week. I enjoyed seeing how playful he was with the photographers and how approachable he was with everyone. COLOGE off stage display quickly became a backdrop for many attendees taking photos.
Another designer with an edge was KingMe Ambitious.  His designs screamed STREET STYLE. All the looks were sporty, yet versatile. Jumpsuits can be paired up with sneakers or can be spiced up with some stiletto for the ultimate Boss girl.
A collection after our own heart was "In Living Kolor" designed by Majeeda Monae . We at Crayonbox love colors and when we saw her bright neon bubble jacket come down the runway we kind of salivated at the sight of all the color-blocking. A bonus was seeing "I'm So Philly" displayed on the back because loving our city is So Philly. Loved seeing the rep to our city. We seriously want one.  Recently, the designer created a gofundme page. The funds will be used to cover the cost of fabrics and any other expenses accrual during her process of being a creative fashion designer.
The Lux StreetWear show during Philly Fashion Week was full of unconventional designs and it gave a unique perspective into the diverse city that makes up Philly.
Designer: Himalaya
Making Tie Dye chic
Designer: Modisch
Designer: D'IYANU
Designer: Lamont Lateef
We are not done yet. Stay tune for a recap and photos on Philly Fashion Week Runway 1
Sincerely,
The Crayonbox Team.