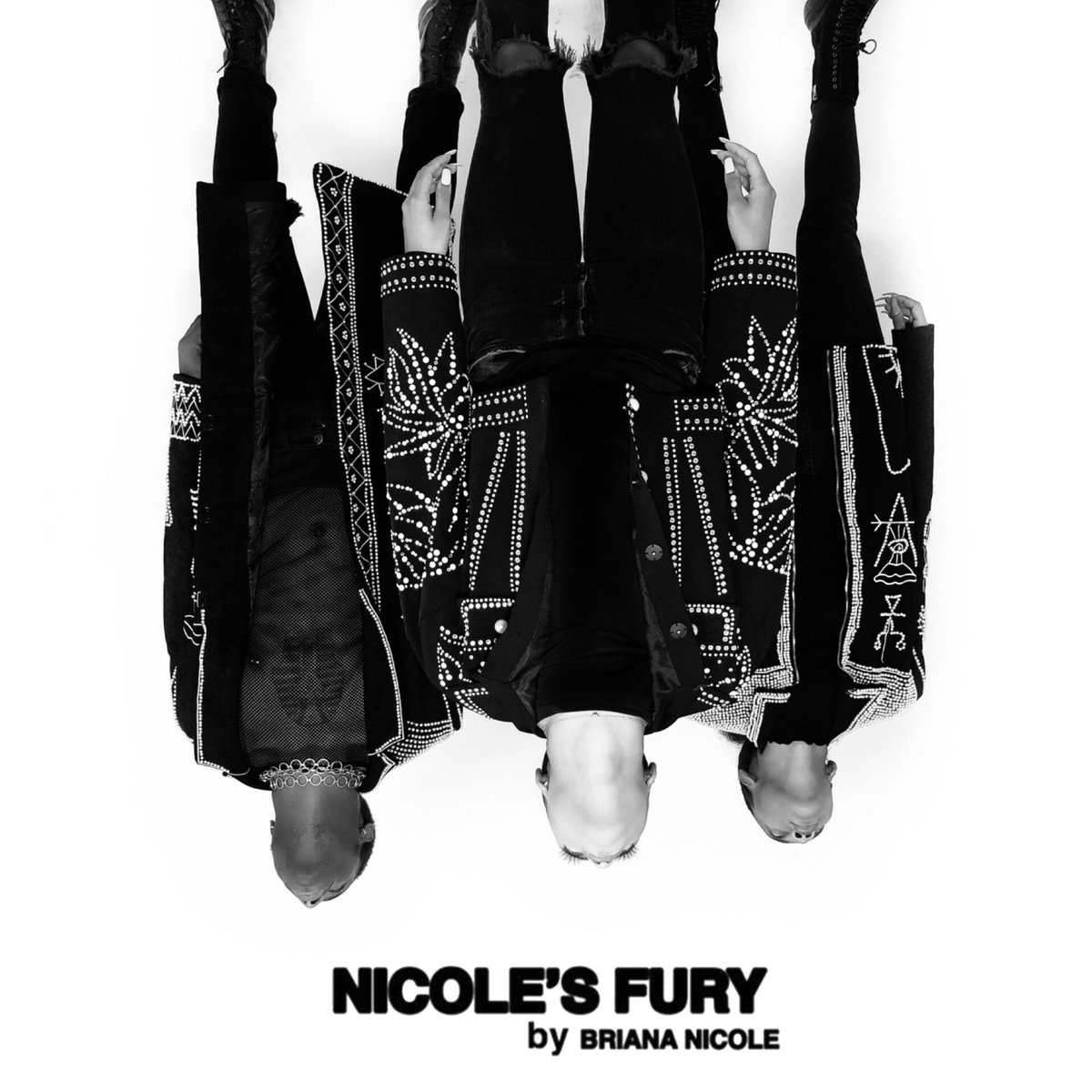 CrayonBox enjoyed seeing Nicole's Fury collection during
Philly's Fashion Week  
Runway 1 showcase back in September 2019. Her rock star luxury collection stood out amongst   other designs. We appreciated the studded details on the jackets and trench. We also loved the ambiance with the display of black on black, skulls and great tailored craftsmanship. We had the privilege of interviewing this young emerging designer who knows how to put on a rocking show. We have a feeling this will not be the last time you hear of Nicole's Fury.
Let's first start off by introducing yourself? Who is Briana/ Nicole Fury?
My full name is Briana Nicole Fury. I am the 21 year old, CEO and Lead Designer for Nicole's Fury. As well as the production specialist for Fury House Productions which is a sister brand to Nicole's Fury.
Can you describe what you were feeling knowing your collection was part of Philly Fashion Week(PFW)?
 The feeling of being accepted into Philadelphia Fashion Week was surreal. Especially with Nicole's Fury being in business for only one year. Being exposed to these kinds of opportunities this early was extremely rewarding and it solidified a lot of these for me as a person. Meaning, sometimes as humans we tend to become discouraged and unsure of our dreams and goals, but being chosen to be apart of something so wondrous made everything clear to me. This is what I'm supposed to do. This is where I'm supposed to be.
How did you get into Fashion Design? Was fashion design something you always wanted to do?
 Fashion Design is something I've always been interested in. Clothing, bags, shoes, it's all so exciting. The different designs, the different creations, the ideas, the visions that people are curating and bringing to life. It's absolutely amazing.

I must say, what really made me fall in love with fashion design was the business behind it. I love the business aspect which I feel a lot of people forget about. It's not only about what you're selling, it's how you sell it.
What is the inspiration behind your designs?
 The inspiration behind my designs would have to be myself. I like to be flashy, I love to stand out, I love to have things other people haven't seen yet or thought about creating yet. I sort of took my own style and incorporated into a business where I can create things that I like, and sell them to GP. That's the best thing about fashion, you can make it your own. There's no one to tell you that you "can't."
What would you say is Nicole's Fury aesthetics?
 Nicole's Fury aesthetic is definitely a rock-star feel mixed with high-end, luxury. I sort of like to balance the two to keep the brand's identity visible as so.
How has it been for you since Philly Fashion Week?
Since Philly Fashion Week, many doors have opened for me. I've networked and spoke with so many people I felt were unobtainable before. I'm in a new light and the feeling is amazing. Though there is still much more work that needs to be put in, I feel I am in the right spot and my journey will only go up from here. There's no looking back.
What are the price points for your designs?
The price points for my designs are between $85-$510 as of now. As a growing business and hard worker, I have to make appropriate prices for what I am putting out. Each item is hand-made with the highest of quality material and tools. Moving forward, the price points will begin to rise, but as of now I feel we're in a great space.
Where can people go to find your designs?
 To find Nicole's Fury items, they are sold exclusively on the Nicole's Fury website (

nicolesfury.com

). To make sure you are purchasing an authentic Nicole's Fury item, all of our items come with a verification card with a number and barcode that goes straight to our website.
In five years from now, where do you see Nicole's Fury? What are your goals/dreams for your label?
 I can't disclose too much information about what's next for Nicole's Fury but I'll say there's definitely a lot in store. My team and I are currently working on the next couple of collections and what will be released within time. As well as a few features and collaborations from people I know my audience would love to see.

 In the next 5 years, I don't know what the future holds but I pray for success, love and a clear understanding of who Briana Nicole Fury is and what it is that I represent.
Is there anything else you would like the readers to know?
 I'd just like to thank the Crayon Box Magazine And the full team for having me and treating me so kindly throughout this entire process. As well as you guys being my first publication interview. Thank you for everything and don't forget to shop

nicolesfury.com